England vs Algeria World Cup
Jerry Reth | Jun 18, 2010 | Comments 2
England vs Algeria World Cup – England was not able to break the deadlocked score of 0-0 against Algeria in their match on Friday. Both sides had a number of different chances to score and put a cap on the game but were unable to capitalize on the opportunities that were presented to them. England has not played well as of late, and they continued their woes and struggles against Algeria, who many thought would fall to a resurgence from the English team today.
The largest news at the beginning of the game was the release of the West Ham goalkeeper Robert Green after his huge screw up in the game against the US. David James was chosen to replace him, and he saw plenty of action during the game today.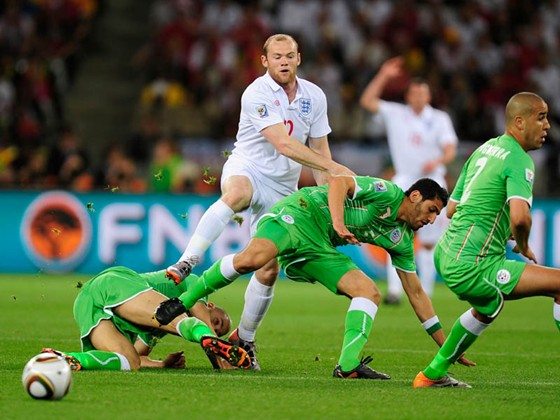 Steven Gerrard was the first to pressure the English team, almost scoring on a high shot that bounced off the hands of the goalkeeper. England could never really get anything going int he game today, and appeared to be sluggish throughout. Some of the players even appeared to be nervous throughout the match, probably because they had played so poorly in their previous game.
Algeria dominated the possession of the ball. James was tested throughout the game with a number of different shots from the Algerians, who seemed to have pinpointed the weakness and goalkeeper and continued to focus on it. England started to wake up late in the game and looked better than they had throughout the day, but even that was not enough to save them from being booed as they left the field at the end of the game.
Filed Under: World Cup
Related News
Comments (2)