Portugal vs. Ivory Coast World Cup 2010
Jerry Reth | Jun 15, 2010 | Comments 1
Portugal vs. Ivory Coast World Cup 2010 – In what many have called one of the most boring World Cup tournaments in recent memory, Ivory Coast and Portugal tied 0-0. The tie is one of many that have been seen in the tournament thus far. In the event of a tie, both teams are awarded one point, as opposed to the three they would have earned had they won the game. In the event of a loss, a team is awarded zero points.
The game was hard fought, and really could have gone to either team had they stepped up and played to the best of their ability. Both coaches expressed that they were upset with the tie, but seemed relieve to not come away with a loss at the same time. Drogba did come in as a 66th minute substitution for Salomon Kalou. Drogba was cleared by FIFA, after an investigation as to whether or not he can play with a cast on his right arm was debated.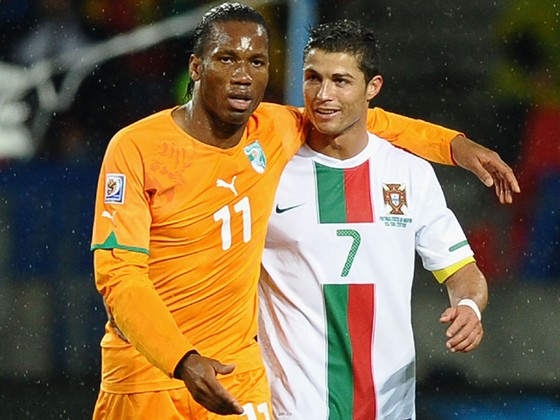 He was ruled eligible just after kick off at the Nelson Mandela Bay Stadium. When he did finally enter the game in the 66th minute, his entrance onto the field was met with cheers from around the stadium. He was, however, unable to pierce the stringent defense of the opposition, and had little impact on the game. Both teams failed to capitalize on a number of opportunities, and both teams did a great job of keeping the other in check.
There were several narrowly missed goals throughout the day, leaving the crowd holding their breath. It was another mundane finish to an otherwise well played game, but again, a game that lacked the spectacular plays that we have come to expect from previous World Cups.
Filed Under: World Cup
Related News
Comments (1)