Spain vs. Switzerland (España vs Suiza) World Cup 2010
Jerry Reth | Jun 16, 2010 | Comments 2
Spain vs. Switzerland (España vs Suiza) World Cup 2010 – In the most shocking game of this years World Cup, the Swiss team was able to beat Spain. Their 1-0 victory, which could not have been predicted by anyone, was a huge shock and a huge accomplishment for the Swiss team. Spain was greeted with delight from many spectators who had been displeased with the boring matches that have been payed thus far throughout the World Cup. While the game was close, and low scoring, the monumental victory was enough to re-energize the fans of the World Cup. While the people of Switzerland celebrated, the people of Spain watched on in shock.
Fans descended into the streets in Switzerland to celebrate the victory. "You know in general the Swiss have never been very chauvinistic, never very enthusiastic in that way," said Fred Hirzel, a football journalist. "But already I can see people outside with their Swiss flags and Klaxons. We will have to change our habits – normally it's the Portuguese or Brazilians celebrating."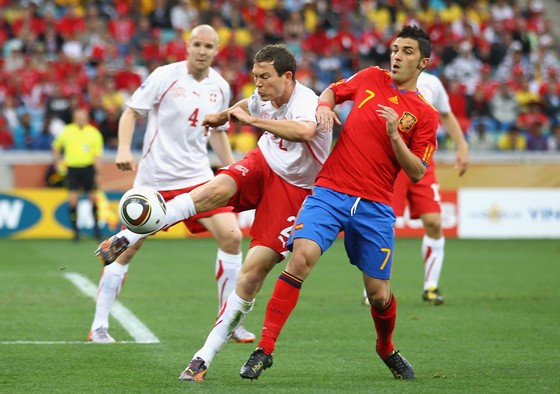 The country erupted with the win, and many flocked to pubs and bars in the country to celebrate the victory. The victory gives the nation a sporting boost that it has been looking for for quite some time. It shows that the country is still interested in their teams, even when they are not considered to be a favorite in the match or even a contender in the tournament. This latest win may have changed all that.
Gelson Fernandes was able to score the winning goal in the match. He has reserved his place in history, as being the only person to score in one of the biggest upsets in the history of the World Cup.
Filed Under: World Cup
Related News
Comments (2)