Paul The Octopus Retiring
Jerry Reth | Jul 12, 2010 | Comments 2
Paul The Octopus Retiring – Paul the octopus ,2 years old is retiring from soccer predictions after dominating national news during the World Cup. The octopus was able to accurately predict every World Cup game that the German team played in. The octopus made predictions by choosing between two boxes of food with the nation's flags inside of them. The bowl of food that he headed toward first was the team that was marked down as his choice in the match. The octopus even received a number of death threats after accurately predicting the team's loss at the end of their world cup run. A number of fans joked about eating the octopus in post-game interviews.
"He won't give any more oracle predictions – either in football, politics, lifestyle, or economy," said a spokesman for the aquarium.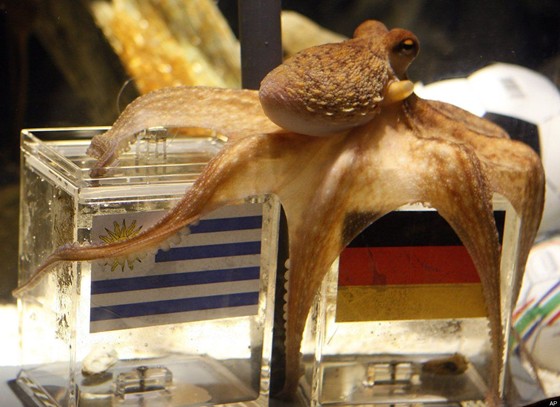 "Paul will get back to his former job, namely making children laugh."
The octopus was presented with a golden cup honoring his ability to correctly guess the outcome of the games. Throughout the World Cup, the popularity of Paul the octopus has continued to grow at a dramatic rate. His accurate predictions have made national news around the world.
While it is unlikely that he will make a return for the 2012 World Cup, it would be interesting to see if he could keep his streak up and continue to guess the results accurately. After the death threats were made, a number of animal-rights organizations stepped up to demand that the aquarium do everything in their power to protect the octopus.
Filed Under: News
Related News
Comments (2)