Paul The Octopus:Psychic Octopus Death Threats
Jerry Reth | Jul 08, 2010 | Comments 1
Paul The Octopus:Psychic Octopus Death Threats – Paul, also known the "Oracle Octopus" of a German aquarium, became a sensation worldwide after the octopus was able to correctly predict the results of Germany's World Cup games. Now, the Octopus might actually become someone's dinner.
"Nothing beats grilled octopus," said fan Dolores Lusch. "Cut him up in thin slices and grill him on all sides with a dash of lemon juice, olive oil and garlic."
The threats have come after Paul accurately predicted that Spain would beat Germany. Some fans have said that they believe that the octopus had jinxed the team, and that it should be eaten.
The octopus predicted the games by having two containers lowered into his tank. Each box had a flag for each nation that would be participating in the upcoming game and each box had food on top of it. The food that the octopus moved toward first was deemed as the selection, and while it is a fairly simplistic way to go about it, the octopus was able to accurately predict every game that Germany played in.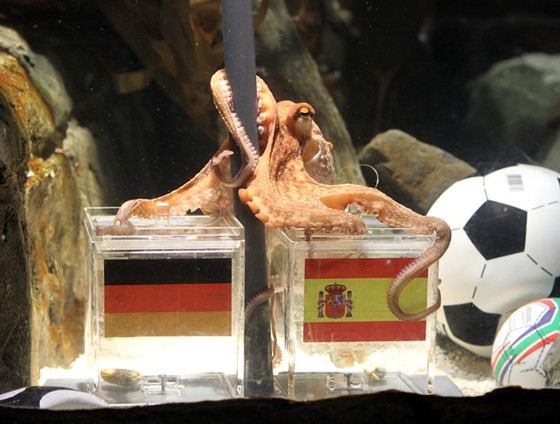 By the time that Germany was set to play Spain, the octopus had already made worldwide news. When Paul picked Spain over Germany, a number of players on the team joked that they felt betrayed by their underwater friend.
During the 2008 European Championships, the octopus was also used to predict a number of games and even had some of its choices televised live. PETA would later demand that the octopus be set free, while many fans thought that Paul was a lucky octopus.
Filed Under: News
Related News
Comments (1)