Barcelona vs Real Madrid 2010: Barca Beats Real 5-0
Mario | Nov 29, 2010 | Comments 67
Barcelona is now at the top of La Liga, top of Europe, and perhaps at the top of the soccer world.
An estimated 620 million audience worldwide witnessed this Monday the coronation of this fantastic soccer team. In its kingdom, the Camp Nou in front of its public, Pep Guardiola's brilliant team completely destroyed Real Madrid (5-0).
Barca took everything from Madrid for the fifth consecutive time, this is starting to become a lot. Jose Mourinho with his old team, Inter eliminated the Blaugrana in the semifinals of the Champions League, last season, but this time the "Special One" took a lesson in Catalan.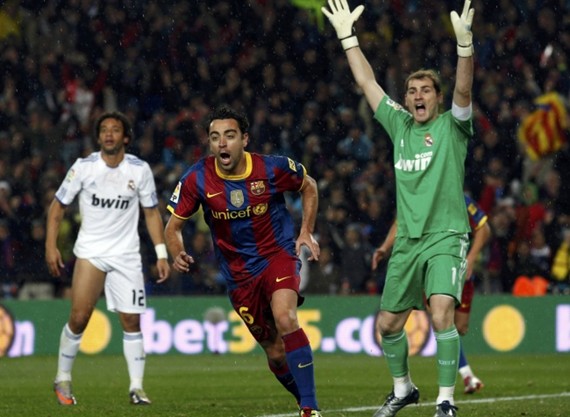 Administered in all serenity, despite the rain, technically and tactically dominated, Real Madrid has watched its opponent take the crown in El Classico. Barca attacked non stop like Guardiola planned and Madrid could not do anything to stop it. Xavi, Messi and Pedro did what they wanted with the ball. The 90 minutes have seemed like an eternity for Madrid: at the 10th, Xavi opened the scoring on an assist from Iniesta, at the 20th, Pedro doubled the lead after 20 consecutive passes from his team.
After the break, Mesut Özil, came in for the merengue, this changed very little. Barca again scored: David Villa, on two passes from Messi, 55th and 58th, before Jeffren, who just came in, concluded the humiliation (90 +1).
Real that almost conceded as many goals in one night than since the beginning of the season, 5 against 6 made a lot of mistakes: 7 yellow cards collected, including one by Cristiano Ronaldo who, through his provocations, was hoping to provoke a reaction from his teammates. It did not happen.
Real lost the title by three points last season. All heads down, overwhelmed by this difficult night, the players of Madrid probably thought of that.
But what could they have done more against the fantastic machine, that is Barcelona?
Filed Under: Liga
Related News
Comments (67)